'Catch a
SouthernBreeze!'
Southern Breeze Golf Tours
© 1999 - 2008
is a division of
Gardner Travel Service, Inc.
1-877-510-4653
---
3 STARS
FOR TEXAS

Golf Tour
S I G N A T U R E
S E R I E S
A Tour of
Texas' Best Links
A 6 Night Package Combining
the Best Golf Resorts in Texas
CLICK HERE
---

Three Jewels of
THE SANGRE DE CRISTO
MOUNTAINS
Black Mesa/Taos Country Club/Angelfire Country Club
COOL SUMMERTIME ESCAPE!
to some of New Mexico's
finest links.
CLICK HERE

THE
---
C O L O R A D O
COLLECTION
---
RedSky!
CLICK HERE
Breckenridge
Keystone Summer!
CLICK HERE
Keystone
Cool Mountain Breeze!


You'll be driven to play your best in picturesque settings found only in paradise. Sandals offers some of the most challenging golf in the Caribbean on prestigious courses in Jamaica and St. Lucia. We've got everything down to a tee for every level of skill, even for those who want to take their very first shot at it. Best of all, Sandals lets you score round after round without paying for any green fees. Any way you slice it, no other resorts include more.
Sandals Golf & Country Club, formally Upton Golf Club. Started life in 1951, as a 9-hole course located 700 feet above sea level in Upton, a few miles east of the resort town of Ocho Rios, St Ann.

The original nine-hole layout designed by P. K Saunders, changed in the early 1960's to become the 18-hole golf course we know today. The clubhouse also relocated a number of times over the years, before settling in its existing location.
In June 1992, Sandals Resorts International purchased Upton GC and set about creating the MOST ELITE GOLF COURSE IN JAMAICA. All the greens were rebuilt with Tifdwarf Bermuda grass and the fairways resurfaced with Bermuda grass removing all the existing crab grass and weeds. Sandals now boast one of the finest Golf Courses in the Caribbean. Golf Digest Magazine granted a four star rating for courses to play whilst on vacation.

The golf course, although comparatively short at 6311 yards, par 71, offers a challenging, but fair 128 slope from the Blue Tees, while the ladies tees measure 4961 yards, par 72 with a slope of 120. Facilities at the Sandals course include a snack bar and beverage carts on the golf course and two practice areas, a putting green with chipping area, and qualified golf instruction by resident PGA Golf Professional.

Golf Course Facts and Information:
18 Holes, Par 71, 6,311 Yards
Complimentary Green Fees to all Sandals Guests
Complimentary transporation to all guests of Sandals/Beaches Resorts within Jamaica's Ocho Rios area.
Caddy is mandatory at $15 per caddy for 18 holes; $12 for 9 holes
Carts are mandatory as of Jan. 1, 2003 at, $38 per cart for 18 holes; $25 for 9 holes
Club Rental: $18 per rental on Wilson and MacGregor; these sets are available in men, ladies, left and right hand. Callaway X-14 is $45 per rental, available in men only, right and left hand
Shoe rentals (includes free socks) $16.00
Golf lessons are $60 for non Sandals & Beaches guests
Sandals St. Lucia Golf Resort & Spa offers a magnificent course with rolling hills and majestic fairways directly on the premises. With 9 greens, the narrow fairways make the course a challenge for the best of golfers. Complimentary transportation for guests staying at nearby Sandals Halcyon St. Lucia.

Golf Course Facts and Information:
9 Holes, Par 33, 2,475 Yards
Complimentary green fees for all Sandals guests
Complimentary transportation for all guests of Sandals Resorts in St. Lucia
Caddy is mandatory at $10 per caddy for 18 holes; $5 for 9 holes
Carts are optional at, $30 per cart for 18 holes; $20 for 9 holes
Club Rental: $20 per rental
Shoe rentals (includes free socks)
45 minute golf lessons are available for $35. All prices quoted in U.S. Dollars

LEARN TO PLAY GOLF IN JUST THREE DAYS.
FREE lessons to Sandals & Beaches GUESTS.
You Should Know:
Caddies are not included but mandatory for all guests (caddies are required by all golf courses in Jamaica).
The caddy will receive $14, of the $15 fee. One dollar, retained by the golf club, provides them with uniform and caps.
These fees are paid to the caddy each day. For this reason we encourage guests to pay the caddy fee in cash upon registration in the Proshop.
The caddies gratefully receive tips. Tips are given directly to the caddy, at the discretion of the guest. There is no recommended amount.
Complimentary transportation to Sandals Golf & Country in Jamaica is provided from Sandals Ocho Resort & Golf Club and Sandals Dunn's River Golf Resort & Spa only.

Although golf is not included at Sandals Antigua and at Sandals Royal Bahamian, it is available at beautiful golf courses close to the resorts.


It'll be love at first sight the moment you enter your luxurious guest room. Where colorful island décor, sophisticated amenities, and beds as soft as a lover's touch create an ambiance that's comfortable and seductively inviting. At each Sandals Resort, you'll find at least 5 different room categories - some with as many as 12. Every appointment and every detail reflect a passion for perfection that sets Sandals apart, creating a standard to which other all-inclusives can only aspire.

Every spacious room is elaborately decorated to provide the ultimate backdrop for romance, air-conditioned to keep you cool on those warm, passionate nights and features such special touches as a hair dryer, telephone, private bath and shower, safe, clock-radio, satellite T.V. and king-size bed, a perfect fit for two. Every detail has been thought of and everything you could dream has been included. So whatever you expect, expect more. Because at Sandals the only thing considered to be standard is our incomparably high standard of excellence.


Whether your suite is dramatically perched atop a coral bluff overlooking the sea, or serenely nestled in a tropical garden by the shore, you can be sure it will feature a level of excellence in every detail from custom-made mahogany furnishings to marble-accented bathrooms. Some Sandals suites even come with their own private plunge pools; others with the convenience of true room service. All feature separate sitting areas, bars stocked with premium-brand spirits, and private balconies so you can enjoy sunset celebrations and moonlight cocktails.
For more information on Sandals Golf visit any one of the resort links below:
| | |
| --- | --- |
| | |
Requesting Availability
We will check your requested courses and accommodations for the date range that you may specify in the boxes below and reply back to you as soon as possible. Of course the more information that you can provide us, the closer we will be in matching your exact request(s). We will not knowingly sell or pass along your information that you provide to any third party for any reason (see Liabilities & Privacy Policy ).

We are available to answer your inquiries in person Monday - Friday (except holidays) from 8:30am until 5:30pm CST (1-817-788-5210). We are also OPEN SATURDAY from 10:00am until 3:00pm. Our typical response time for your email request ranges from 3 hours to as many as 72 depending upon the availability of onsite resourses and those of the golf clubs, country clubs and resorts/lodging establishments, as well as, any variations you may request from our listed programs. For those inquirers requesting a trip within two weeks of play, we will give you a priority due to your need to establish a plan. At any rate, we will respond to your requests as quickly as possible and as soon as we have all components of your package confirmable. Also, keep in mind that some of our golf packages are time sensitive requiring an advance purchase to receive the lowest available rates.
How to book our golf packages: Your reservations can be handled via e-mail if you prefer by completing the information above and clicking the REQUEST RATE button located immediately above. Or we will be happy to assist you over the phone. It will greatly assist our planners if you can provide 1). the specific package that you and your party are interested in, 2). requested dates for the package, 3). whether, or not, you will need air or rent car and, 4). your handicap and those in your party. Click on GOLF REQUEST to send us a general request in text form.

All prices are per person and include all lodging and golf-related taxes except where noted.
We accept American Express, Visa, Mastercard, Discover Card or money order.

Terms and Conditions: Southern Breeze Golf Tours and/or Gardner Travel Service, Inc., shall not be held liable for any services provided, or to be provided, by any vendor. The client agrees that any claim(s) derived from the usage of such vendors shall remain the sole responsibility of such vendors and no action(s) may be brought against Southern Breeze Golf Tours and/or Gardner Travel Service, Inc.. Southern Breeze Golf Tours and its parent company, subsidiaries, and affiliates assume no responsibilities or liabilities in connection with the service of any air carrier, vessel, train, aircraft, motor vehicle, or any other conveyance which may be used, either wholly, or in part, in connection with the services ordered. Nor will any Southern Breeze Golf Tours and/or Gardner Travel Service, Inc., and its associates and operatives be responsible for any act, error, or omission, or for any injury, loss, accident, delay or irregularity which may be occasioned by reason of any defect in any vehicle, or through the neglect of any person engaged in executing the purpose for which tickets or coupons are issued, including, but not limited to, tour guides, vehicle operators, hotel administration and staff and/or golf course administration and staff. Southern Breeze Golf Tours and/or Gardner Travel Service, Inc., shall not be held liable in the event any itinerary or arrangements are altered by vendor or weather, act of terrorism or act of god. Prices subject to change without notice.

Cancellations: Cancellations made up to 45 days of arrival - penalty equals deposit paid. Cancellations made between 44 - 31 days prior to arrival - penalty equals deposit paid or 25% of package price, whichever is greater. Cancellations made between 30 - 15 days prior to arrival - penalty is 50% of package price. Cancellations made 14 - 8 days prior to arrival - penalty is 75% of package price. Cancellations made 7 days prior to departure or later and No Shows - penalty is 100% of package price.
golfplanner@usgolftreks.com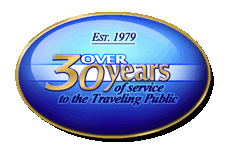 or
817/788-5210 from some parts of Canada
OUR HOURS ARE
8:30AM UNTIL 5:30PM Monday thru Friday
---
Southern Breeze Golf Tours is a division of
Gardner Travel Service, Inc.
Est. 1979
© 1999 - 2008
Gardner Travel Home Page
Site Map
What's New
Catch a Southern Breeze!