SOUTHERNBREEZE
---
GOLF TOURS
AUSTIN
&
SAN ANTONIO
'Catch a SouthernBreeze!'
© 1999 - 2013


is a division of
Gardner Travel Service, Inc.
---
3 STARS
FOR TEXAS

Golf Tour
S I G N A T U R E
S E R I E S
A Tour of
Texas' Best Links
A 6 Night Package Combining
the Best Golf Resorts in Texas
CLICK HERE
---
Three Jewels of
THE SANGRE DE CRISTO
MOUNTAINS
Black Mesa/Taos Country Club/Angelfire Country Club
COOL SUMMERTIME ESCAPE!
to some of New Mexico's
finest links.
CLICK HERE

THE
---
C O L O R A D O
COLLECTION
---
RedSky!
CLICK HERE
Breckenridge
Keystone Summer!
CLICK HERE
Keystone
Cool Mountain Breeze!

P

G

A
---
Spectator

Series
---

Attend these greatest of
Golf Events


with Tickets





---
---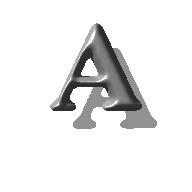 ---
S I G N A T U R E S E R I E S
A Tour of The Hill Country's Best Links
A 3 Night Package Combining the Best Courses of
the Austin/San Antonio/Hill Country Area
This package includes all lodging, golf and related taxes:
1 night stay at Staybridge Suites Airport, AUSTIN
2 nights stay at The Howard Johnson Inn Northwest, SAN ANTONIO
1 round of golf w/cart per person at the following courses:
Grey Rock Golf Club
Falconhead Golf Club
Canyon Springs Golf Club
La Cantera Golf Club

Day 1 - Arrive in the AUSTIN area in the morning to play 18 at Grey Rock Golf Club. Check in at Staybridge Suites Austin Airport that afternoon/evening. Hotel is guaranteed for late arrival.
Day 2 - The next morn head for SAN ANTONIO. But along the way tee it up at one of Austin's newest and most unique course, PGA Falconhead. This course is a first-of-its-kind layout designed by the PGA. A real pleasure to play, this creation is both majestic and challenging. Then, on to San Antone for first night's check in at The Howard Johnson Inn Northwest.
Day 3 - This morning, catch breakfast at your hotel enroute to Canyon Springs Golf Club for an A.M. tee time. Afternoon is free to explore the Riverwalk Area of San Antonio. Excellent cuisine can be had here along the walk. Also, take a walk-up river cruise to get an overview of what there is to offer along the river. Of course, The Alamo is just around the corner.
Day 4 - On this last morning before you leave for home, play La Cantera Golf Club (Golf Digest #1 rated course in Texas and home of The Westin Texas Open).
The above program includes as much golf as is reasonably expected with the paramiters and conditions of doing both AUSTIN and SAN ANTONIO. Replay is available at most courses for an additional fee. Our golf planners will provide you with the additional information if you are interested. Additional nights and rounds can be added as desired.
You may use your own personal transportation for this tour or, we would be happy to arrange a rental car in Austin for drop-off in San Antonio or return to the Austin Airport.

Season 2013



SINGLE

DOUBLE
TRIPLE
THE TEXAS TWO STEP


Golf Tour




WEEKEND THU-SUN




$835 - $875

$637 - $677
$571 - $611


WEEKDAY SUN-THU
$760 - $790

$562 - $592

$496 - $526

THE ABOVE RATES ARE PER PERSON. EXTRA NIGHTS AND ROUNDS AVAILABLE UPON REQUEST.
Prices are in US currency and are per-person based on double occupancy unless otherwise noted. Single Player rate allows 1-3 non-playing guests to stay free in room. Summertime travel will be slightly less. All prices are subject to availability and change. Taxes and resort fees included.

Please call or request your desired information via email below.
The ideal golf trip for combining both exciting golf destinations.

See the Hill Country in style!
---
---
The Hill Country's Finest Courses!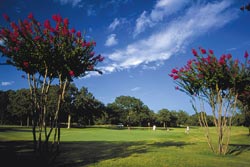 ---
Grey Rock Golf Club
---
Designed with either the weekend novice or the seasoned golfer in mind, the Grey Rock Golf Club offers a wide range of play for all skill levels. The course was designed by Jay Morrish and Associates, and has been cited in both regional and national golf magazines as one of Texas' best daily fee courses. The 18 hole championship course operates as a semi-private golf club for Circle C residents and their families. In addition, the Grey Rock Clubhouse and grounds are among the most beautiful settings for either a quick lunch, a tournament party, or even a wedding reception. The centrally located putting green and large strolling pathways are intensely landscaped with beautiful flowers, fountains, and walls. With a few easy steps, you can walk into a wonderland of nighttime lighting and enjoy a refreshing oasis in the hot Texas summer, and a delightful outdoor place to have a special event on a spring or fall evening.
---
---
PAR 72
Designer(s) ~ Jay Morrish

| | | | |
| --- | --- | --- | --- |
| TEES | YARDS | SLOPE | RATING |
| Championship | 6859 | 122 | 72.2 |
| Middle | 6333 | 118 | 70.3 |
| Forward | 5236 | 120 | 69.6 |

Designated: Semi-Private
Year Built: 1987





Tee Times for 1 to 15 players at a time:

30 days in advance
Tee Times for 16 plus players at a time:

60-90 days in advance
---
Falconhead Golf Club
---
PGA
Falconhead Golf Club
was expertly designed to fit carefully into the gently rolling terrain of the Texas Hill Country. It is a golf experience that can be enjoyed by golfers of all skill levels, including the top players in the world and average weekend golfers. Each hole has four to six sets of tees so that the course offers all the challenges you would expect from a PGA TOUR course, yet it remains fun, playable and memorable.

The newest addition to the PGA TOUR family of golf facilities, a PGA TOUR Signature Series Course is a golf facility designed and operated to meet the exacting standards of the PGA TOUR. Each Signature Series Course is committed to providing its guests with a golfing experience that lives up to the PGA TOUR's unmatched standard for quality, conditioning and customer service, while also being capable of hosting championship golf tournaments.
---
---
PAR 72
Designer(s) ~ The PGA

| | | | |
| --- | --- | --- | --- |
| TEES | YARDS | SLOPE | RATING |
| Championship | 7302 | 129 | 75.0 |
| Middle | 5924 | 114 | 68.2 |
| Forward | 5202 | 114 | 67.8 |

Designated: Semi-Private
Year Built: 2003

Tee Times for 1 to 15 players at a time:

30 days in advance
Tee Times for 16 plus players at a time:

60-90 days in advance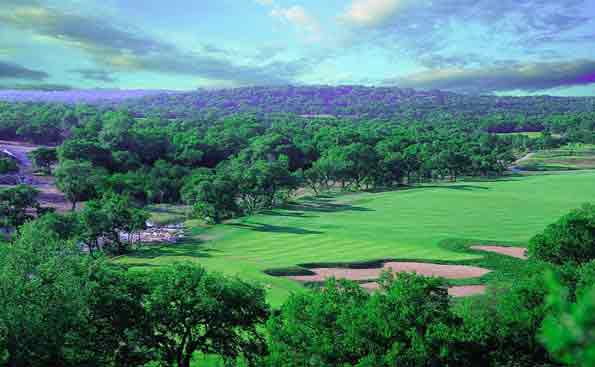 ---
Canyon Springs
---
This
7,077-yard
layout was designed by
Thomas Walker
. Don't worry if you've never heard of him; if this place reaches its potential, you'll surely be seeing more of his name in the future.
Canyon Springs
is set in a scenic oak forest covering a series of hills. The isolated routing makes you feel as if you're on top of a private mountain, as no two fairways run parallel. Some might expect a tricked-up course with wild elevation swings and long forced carries. Instead, the design blends in with its environment instead of taking advantage of it.

There were some heated discussions during construction on whether or not to leave some strategically placed trees, and in the end, the correct decisions were made. The result is a thinking person's layout where placement off the tee is critical and the huge greens can make for wildly different pin positions.
---
---
PAR 72
Designer(s) ~ Thomas Walker

| | | | |
| --- | --- | --- | --- |
| TEES | YARDS | SLOPE | RATING |
| Championship | 7077 | 130 | 72.8 |
| Middle | 6677 | 123 | 70.7 |
| Forward | 5394 | 115 | 70.0 |

Designated: Public
Year Built: 1998
Tee Times for 1 to 15 players at a time:

30 days in advance
Tee Times for 16 plus players at a time:

60-90 days in advance
---
La Cantera ~ The Resort Course
---
La Cantera
has been the site of the PGA Tour's
Texas Open
since 1995. Located on the north side of town, this thrill-a-minute design by
Tom Weiskopf
and
Jay Morrish
has made quite a bit of noise since its debut three years ago. It was a Golf Magazine "Top 10 You Can Play" pick for 1995.
The 7,001-yard layout is spread over three hilltops, serving up views of the surrounding terrain. Some holes seem like a game of "can-you-top-this," with dramatic elevation changes, carries over ravines, and risk-reward opportunities. But La Cantera pulls this off without being gimmicky because it's the roller-coaster property, not the design, that causes the drama.

Speaking of roller coasters, the seventh hole provides one of the most remarkable scenes in all of golf. The tee shot on this 316-yard par four drops 80 feet down to the fairway, set in the bottom of an old limestone quarry. However, your eyes seem glued to what sits to the left of the hole: The Fiesta Texas Amusement Park, complete with "The Rattler," a huge wooden roller coaster directly on the other side of a fence from the green. Every 40 seconds or so, your concentration is interrupted by the shrieks of yet another group of thrill seekers as they cascade down the coaster's initial drop.
---
---
PAR 72
Designer(s) ~ Tom Weiskopf and Jay Morrish

| | | | |
| --- | --- | --- | --- |
| TEES | YARDS | SLOPE | RATING |
| Championship | 7001 | 134 | 72.5 |
| Middle | 6406 | 127 | 69.6 |
| Forward | 4940 | 108 | 67.1 |

Designated: Semi-Private
Year Built: 1995
Tee Times for 1 to 15 players at a time:

30 days in advance
Tee Times for 16 plus players at a time:

60-90 days in advance
---
---
Your Choice of Accommodations
Our overnight accommodations are chosen based upon their proximity to the courses, as well as, their overall value, function and convenience to a wide selection of dining venues. These properties APPRECIATE THE GOLFER. Rates range from reasonable to luxury and depending upon your needs. And, you may bring along non-playing guest(s) free of charge, in most cases, up to the maximum allowed room occupancy. These accommodations are optional. However, they make excellent turn-key solutions when you are seeking a complete playing experience in the Austin Hill Country!

THESE ACCOMMODATIONS ARE INCLUDED IN OUR PACKAGE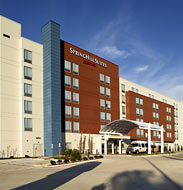 ---
Springhill Suites Airport
---
Property type:
FIRST CLASS
Room types:
Guestrooms
incl. either 1 king or 2 queens
156 SUITES - 6 LEVELS
ELEVATORS - INTERIOR CORRIDORS
The new SpringHill Suites by Marriott Houston Intercontinental Airport hotel ideally located just a mile from the terminals at Houston Intercontinental Airport (IAH). Catch a breath of fresh air while on the road in our spacious suites with separate living, working and sleeping areas in modern decor. Stay productive with free high speed internet, large work area and flat screen TV. Enjoy the convenience of pantry area with mini-fridge and microwave.

Hotel features and amenities include:
Suites featuring pantry area with a small refrigerator, sink and microwave

Large well-lit desk, voice mail and free high-speed Internet access at this IAH hotel

Flat screen TV with large cable TV selection, HBO and in-room pay movies

In-room coffee, hair dryer, iron/ironing board at this Houston Intercontinental Airport Hotel

Comfort bedding with custom duvet, crisp linens and fluffier pillows

This hotel has a smoke-free policy
---
Howard Johnson Inn Northwest
---
Property type: TOURIST CLASS
ELEVATORS - INTERIOR CORRIDORS
Room types:
Guestrooms

incl. either 1 king or 2 queens
Howard Johnson Inn Crossroads is a tourist class hotel located just five minutes from San Antonio International Airport. The hotel is conveniently located on West IH10 and Crossroads Boulevard, in view of NW Loop 410 for easy access to all points of interest in beautiful San Antonio. Some of the close-by attractions include The River Walk, the Alamo, Downtown, Sea World, Fiesta Texas and San Antonio Zoo. From the moment you enter the lobby you'll know Howard Johnson Inn is the perfect choice.
Continental Breakfast buffet included
**UPGRADE TO THE FOLLOWING PROPERTIES**
---
Hilton Garden Inn Roundrock
---
Property type:
FIRST CLASS
Room types:
1 Bedroom incl. either 1 king or 2 queens
The Hilton Garden Inn/Roundrock is a first class hotel located 30 minutes from the Austin-Bergstrom International Airport and 20 minutes from downtown Austin. This property is centrally located just north of Austin and South of Georgetown in Round Rock, Texas, off Interstate Highway 35 North with easy access to the courses.
Our package includes a great starter breakfast at the hotel each morning. And Saltgrass Steakhouse and the locally famous Chuy's Mexican Restaurant are just a short walk across the parking lot from the property!
HOT BUFFET BREAKFAST INCLUDED!

---
Marriott Springhill Suites Northwest

---
Property type:
FIRST CLASS ALL SUITES
ELEVATORS - INTERIOR CORRIDORS

Room types:
1 Bedroom Suites
incl. either 1 king or 2 queens plus sofasleeper
Located in the music capital of the world, the SpringHill Suites Austin Northwest/ Arboretum is a breath of fresh air. Designed with the savvy traveler in mind, this northwest Austin hotel is an all-suites hotel located across from The Domain, Austin's new upscale outdoor mall. These spacious, stylish suites offer separate space for work and leisure and great amenities like a large work desk, luxury bedding, and free high-speed Internet and local calls. Plus, you'll be comfortably set with a mini-fridge, microwave, coffee maker and comfy lounge chair and pull-out sofa. Recharge yourself in the morning
with a free, hot buffet breakfast. After a full day on the links, take a swim in the indoor pool and get fit in the exercise room. Make your Austin adventures memorable and enrich your travels with a stay at the SpringHill Suites Austin Northwest/Arboretum.
HOT BUFFET BREAKFAST INCLUDED!
---
Sheraton Austin Capital

---
Property type: DLX FIRST CLASS
ELEVATORS - INTERIOR CORRIDORS


Room types:
Deluxe Guestroom
incl. either 1 king or 2 queens


Austin SHERATON at the Capitol is conveniently located just 10 minutes from Austin Bergstrom Airport and Downtown just blocks from the State Capitol, 6th Street the Live Music Capitol of the World, Convention Center, Performing Arts and the University of Texas. With the view overlooking Downtown, enjoying our new Lobby Bar or tasting the Culinary Expertise in Rojo Red, it is the only place to Stay when visiting Austin Texas!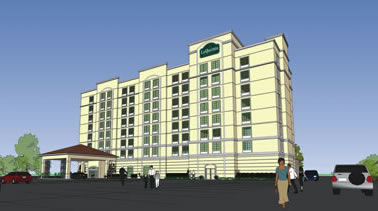 ---
LaQuinta Inn and Suites Northwest

---
Property type: FIRST CLASS
ELEVATORS - INTERIOR CORRIDORS


Room types:
Guestrooms

incl. either 1 king or 2 queens
Opened in March 2007, is a new San Antonio hotel and state-of-the-art conference center in San Antonio's Northwest. It is also well located for most of the courses on our program.
SERVICES INCLUDE:
Complimentary USA Today Newspaper
Televisions with premium channels, movies on-demand
Free local calls and dataport phones with voice messaging
Free Wireless Internet in Rooms and Suites, Lobby, Business Center, and Pool
Pool-view fitness center equipped for those who take their workouts seriously
Courtyard swimming pool and hot tub
Guest Laundry facility
24-hour self service Business Center
Complimentary self parking with 24-hour security
Dry Cleaning service
Complimentary Hotel Shuttle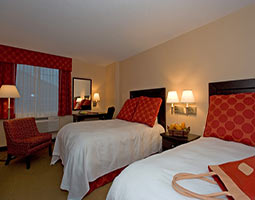 For a pleasurable stay while hitting the links in Old San Antone, we guarantee a relaxing stay at La Quinta. Each day, the friendly staff prepares a delicious complimentary breakfast in the breakfast room, where choices including coffee, juices, pastries, yogurt, cereals, fresh fruit, and including "Create Your Own Waffle."
Continental Breakfast included
---
Residence Inn San Antonio Airport

---
Property type:
FIRST CLASS ALL SUITES
ELEVATORS - INTERIOR CORRIDORS


Make yourself at home in San Antonio minutes after your plane lands, at the Residence Inn San Antonio Airport. This San Antonio hotel is conveniently located several miles from three of our top golf courses. A twenty minute drive takes you from your San Antonio, TX hotel to historic, vibrant downtown San Antonio. Take a water taxi at the San Antonio Riverwalk. See a show at the 1929 Majestic Theatre. Try some genuine Texas BBQ. And of course, remember the Alamo!
Back at your San Antonio, Texas hotel, they will be waiting with a free breakfast buffet in the morning and free appetizers at their nightly social hour. Outside is a BBQ picnic area and a heated pool. Curl up in front of a fireplace or make yourself a meal in the fully equipped kitchen in your suite.
Here to work? Enjoy a well-lit large desk, ergonomically designed chair and free high speed internet. And pets are always welcome!
One Bedroom Suite
Separate bedroom with queen bed or two doubles, full bath, fully equipped kitchen, living room with sofa-sleeper, TV and phone
Two-Bedroom Suite
Two separate bedrooms with queen bed in each room, 2 full baths, fully equipped kitchen, living room with sofa-sleeper, fireplace, TV and phone
Spacious suite combines comfort and functionality, including high-speed Internet access
The kitchen in every San Antonio hotel suite comes with microwave, refrigerator, stove-top and oven
FULL BREAKFAST SERVED DAILY!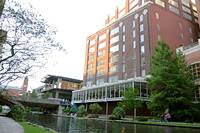 ---
Homewood Suites Riverwalk Hotel

---
Property type:
FIRST CLASS ALL SUITES
ELEVATORS - INTERIOR CORRIDORS


Homewood Suites by Hilton offers spacious studio, one, and two bedroom suites with enough space for work, study, or entertaining, complimentary high speed internet access in all guest suites.

A complimentary "suite start" hot breakfast every morning and a welcome home reception featuring a complimentary light meal and beverages Monday through Thursday evenings. All for less than you might think.

At this lovely Homewood Suites Hotel you will enjoy one of 26 different suites plans that have been developed inside the San Antonio Drug Company Building-listed in the National Directory of Historic Places. Valet parking required at $21.63 daily.

One Bedroom Suite
Two room suite with separate sleeping and living rooms with fully equipped kitchen. Suite features choice of king bed, single queen or 2 double beds. A sofa-sleeper is included with any bedding choice and is located in the living room.
Two-Bedroom Suite
Two bedroom suite with separate sleeping and living rooms with fully equipped kitchen. One bedroom features one king or queen bed, the other features one or two double beds. A full sized sofa sleeper is offered in the living room adjacent to the kitchen.

Complimentary Breakfast!
Nightly Manager's Reception Mon-Thu
!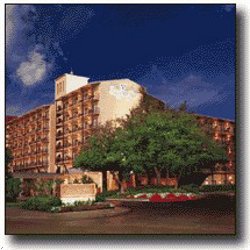 ---
Marriott Plaza Hotel

---
Property type: DLX FIRST CLASS
ELEVATORS - INTERIOR CORRIDORS


Room types:
Guestrooms
incl. either 1 king or 2 queens
Surrounded by sun-bathed courtyards, sparkling fountains and lush gardens complete with free-roaming pheasants and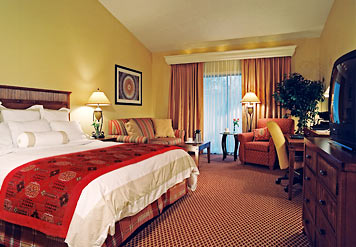 peacocks, the Marriott Plaza San Antonio Hotel, provides an oasis of tranquility in the heart of downtown San Antonio - the perfect hotel for your leisure, business or meeting needs. As part of the experience of San Antonio we are surrounded by restaurants like, Rio Rio, Mi Tierra, The Hard Rock Cafe, and the Little Rhine Steakhouse. Also for your convenience-- complimentary Boarding Pass prints are available at our Lobby kiosk; and free Internet, Copy and Fax services are offered in our second floor Business Center!
Hotel Highlights
This hotel is nonsmoking
Steps from the famed Riverwalk and close to restaurants and night life.
Unique meeting facilities including five historic buildings restored and utilized as meeting rooms.
Award Winning Planning and Event Staff, consistently ranking as Number 1 in the Region.
OR JUST CALL US AND WE CAN USUALLY GET YOU A QUOTE THE SAME DAY!

or
From some parts of Canada 1-817-481-9887


A word about our programs...

The 'Play Around' Packages located throughout our site offer optimal golf experience without excessive spending as a result of choosing to stay in a suitable and strategically located hotel rather than opting to stay in a nearby resort that will surely cost a bit more. If golf is your primary concern when visiting this destination perhaps the 'Play Around' concept that we offer would work well for you. If however, you choose to stay in one of the top resorts that we represent within this site, we will arrange those reservations for you and add any of the courses listed below to your trip. See our AUSTIN GOLF PROGRAMS for a total listing of all resorts that we offer in the area.

SEE OUR SIMILAR PROGRAMS FOR AUSTIN!




We will check your requested courses and accommodations (above) for the date range that you may specify in the boxes below and reply back to you as soon as possible. Just click the "Request Rates" button at the bottom of the request form. Of course the more information that you can provide us, the closer we will be in matching your exact request(s). We will not knowingly sell or pass along your information that you provide to any third party for any reason (see Liabilities and Privacy Policy).

We are available to answer your inquiries in person Monday - Friday (except holidays) from 8:30am until 5:30pm CST (1-817-788-5210). Our typical response time for your email request ranges from 3 hours to as many as 72 depending upon the availability of onsite resources and those of the golf clubs, country clubs and resorts/lodging establishments, as well as, any variations you may request from our listed programs. For those inquirers requesting a trip within two weeks of play, we will give you a priority due to your need to establish a plan. At any rate, we will respond to your requests as quickly as possible and as soon as we have all components of your package confirmable. Also, keep in mind that some of our golf packages are time sensitive requiring an advance purchase to receive the lowest available rates.
OR...
JUST CALL US MONDAY-FRIDAY FROM 8:30AM UNTIL 5:30PM (CST) AND WE WILL TAKE YOU FROM TEE TO GREEN ON THE COURSE QUALITY, ROOM/SUITE DESCRIPTIONS AND THE RATES AND AVAILABILITY.

1-877-510-4653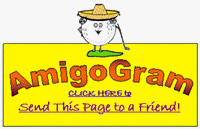 INSURE YOUR GOOD TIMES with Travel Guard Insurance
This unique insurance policy covers your trip for illness, injury or death. It also provides for baggage loss (including golf clubs), delays and emergency medical and evacuation. Round rainouts are also covered in this fully comprehensive program. Protect your golf trip with Travel Guard Insurance. For full details please click on the banner right:

Trip Cancellation
Covers you if you cancel your Trip due to a covered reason.

150% of Trip Cost: Trip Interruption†
Covers you if you interrupt your Trip due to a covered reason.

$750: Trip Interruption - Return Air Only†
Reimburses the additional airline transportation expenses incurred by you to reach the return destination

Fee Refund
Reimburses you up to the cost of your hunting or fishing license if you cancel your trip due to a covered reason listed under trip cancellation coverage.

Golf Fee Refund
Reimburses you for the prepaid, non-refundable cost of green fees, caddy fees, and/or cart fees if you cancel your trip due to a covered reason listed under trip cancellation coverage.

Golf Course Closure
Reimburses you for the non-refundable golf fees if a golf course on your intinerary is closed due to inclement weather and you are given less than 24 hours notice of such closure.
CHECK OUT OUR SPECIALLY PRICED STAY AND PLAY RATES AT
BARTON CREEK RESORT!

Tee it up at Texas' premier golf stop! And enjoy and enjoy FOUR of the sweetest courses in the scenic Hill Country.
Add any of the above courses to our Barton Creek Golf Package.
Come 'n see what Texas Golf is all about!
CLICK HERE
We can also package and assist in the following golf-themed outings:
CORPORATE EVENTS
CHURCH GROUPS
FRATERNITY/SORORITY/ALUMNI GETAWAYS
REUNIONS
RETREATS

BACHELOR PARTY GOLF OUTINGS
GIFT CERTIFICATES

TOURNAMENT PRIZES
OUR HOURS ARE
---
Monday - Friday from 8:30am to 5:30pm

Central Standard Time
TOLL FREE
877-510-4653
or 1-817-788-5210 for some parts of Canada
We also offer the following Austin and Hill Country area packages:
BARTON CREEK RESORT - most would agree that this is the premier Texas golf resort!

PLAY AROUND SAN ANTONIO - a collection of the finest links available in the San Antonio area. 30 Day plus Advance (preferred) Tee Times at great low rates!

The WESTIN LA CANTERA RESORT GOLF PACKAGE - a complete program including selected number of rounds at the two La Cantera courses, as well as, a great selection of other area golf courses. GREAT RATES!

The HYATT HILL COUNTRY RESORT - a real Texas gem with a most enjoyable 27-hole Arthur Hills designed golf club. This antebellum-style resort is a family pleaser!

The TEXAS 2 STEP - a combination of the best of Austin and San Antonio in a moving 4 day/3 night package!

CANYON SPRINGS GOLF PACKAGE - a local favorite that keeps getting better with time. This course has that true Texas feel winding through spring fed creeks, high bluffs and beautiful valleys. This one is worth a second go-round!

SAN ANTONE'S BEST 90 HOLES - if you are seeking the best course play in San Antonio you may as well start here!