a Division of Gardner Travel Service, Inc.
since 1979

San Antonio - the #1 Golf destination in Texas!
The San Antonio area has some incredible golf opportunities along with some of Texas' best tourist spots. Take a quick tour of The Alamo. Then mosey on down to the Riverwalk. The city comes alive at night along this famous stretch of the San Antonio River. But whatever you do, bring along the sticks because there's no better place to be in Texas than on the 18th green at sunset at one of San Antonio's finest links. Nobody knows the San Antonio golf scene better than Southern Breeze Golf Tours!




Enjoy some of The Alamo City's best golf at these exceptional clubs!



CALL US or request your San Antonio golf package information here. These courses are time-tested and always well maintained. Rated the best-of-the-best statewide, this collection of San Antonio's finer links will provide hours of fun and challenge. We offer the largest selection of clubs in the San Antonio area.
All of our rounds include:

Advance Prime Tee Times chosen specifically for you

Optimal scheduling when more than 18 a day is essential

Express checkin

Range balls at each stop

Quality assurance by our own team of golf professionals

3 Days/2 Nights starting at $214* per player
* Playing Brackenridge Park and Cedar Creek weekdays plus 3 players in room at LaQuinta Inn NW San Antonio.

PLAY (OR ADD) ANY OF THESE SAN ANTONIO AREA CLUBS WITH ANY OF THE ABOVE ITINERARIES:


The Quarry

|

The Resort Course @ La Cantera

|

The Palmer Course @ La Cantera

|

TPC San Antonio

(private)

|

Canyon Springs

|

Hyatt Hill Country

|

The Bandit

|

Buckhorn

|

The Republic

|

Silverhorn

|

Brackenridge

|

Cedar Creek
PLAY SAN ANTONIO'S

BEST

COURSES!
Our

DELUXE COURSE

lineup below offers some of the best rounds in the San Antonio area. These exemplary courses are what have made the surrounding San Antonio area a famous and reliable golf mecca. If you are seeking challenging links with top-notch conditioning and carved-out natural terrain these clubs represent the upscale-nicer side of the San Antonio golf scene and will provide a memorable round for those coming in search of the better games in town.
The Bandit

will steal your heart. It is as breathtaking as it is treacherous. You will need to hit every club in your bag. Situated on Lake McQueeney and Long Creek, water is in play on 13 of the 18 already dramatic holes. The Bandit also boasts 71 sand traps to make your round a little more interesting. The Bandit appeals to all golfers but especially to the purist. With 100 foot elevation differentials and pristine condition this course offers an unforgettable experience. The Bandit is a delightful "change of pace" experience waiting for the golfer who enjoys a challenge of some unforgettable holes while enjoying the twisting, rolling terrain of the historical Texas Hill Country.
The Republic

was voted the #1 course in San Antonio by the Express-News in 2006. One of San Antonio's newest golf sensations is built along scenic Salado Creek among glorious oaks, elms and mesquite trees.

Only 10 minutes from downtown San Antonio's world famous Riverwalk, The Republic Golf Club provides magnificent golf with the feeling that a little Texas history whistles through the trees. The perfect atmosphere for camaraderie and competition, The Republic affords the best in allowing competitors to focus while offering a terrific venue for bringing people together. History in the making—that's The Republic Golf Club.
Brackenridge Park Golf Course

is the heart of the Alamo City Golf Trail. Located just north of downtown San Antonio, this course is accessible for locals and visitors alike. The 2008 restoration of "Old Brack" re-routed the course to Tillinghast's original layout and renewed its conditions to compete with San Antonio's premier golf courses. Anyone playing golf in the San Antonio should tee it up at Brackenridge to enjoy its wonderful history and fun city-park layout.

Brackenridge Park Golf Course is also the new site of the Texas Golf Hall of Fame. Come visit the club house to see the "Walk of Fame", the "Wall of Frames", and the Texas Tournament Trophy Room!
Cedar Creek

is no ordinary golf course! This hidden golf gem is located north of Loop 1604, off of Kyle Seale Parkway on the northwest side of San Antonio. Cedar Creek Golf Course opened in 1989 and was designed by Finger Dye Spann, Inc. If you are looking for a true hill country golf course, Cedar Creek will certainly accommodate. Rolling hills and beautiful vistas make playing this course a memorable and challenging experience.
SilverHorn Golf Club of Texas

has earned the reputation as one of the best upscale daily fee golf course in San Antonio. This course has been ranked among "The Top 25 Courses in Texas" by The Dallas Morning News. Golf Digest listed SilverHorn in the "Places to Play" guide.

SilverHorn is also considered as one of the most challenging layouts in San Antonio. Time and time again SilverHorn offers a unique, stimulating challenge to golfing enthusiasts of every skill level. The distinct Hill Country character of SilverHorn can be credited to designer Randy Heckenkemper along with PGA Tour Professionals Willie Wood and Scott Verplank. SilverHorn's tree-lined fairways, strategic use of sand and water, and beautifully framed contoured greens make this par 72 course a treasured Hill Country experience long remembered.
The B

uckhorn

is located on the outskirts of historic Comfort, Texas, at the foothills of the Hill Country. A short 30 minute ride up I-10, and you're far enough away to enjoy yourself, but still close enough to get back in time for dinner.

The Buckhorn's championship layout is situated to take perfect advantage of the land's natural attributes – elevation changes, clear water creeks, stands of live oak, and, of course, vista views. Well known as a really fun golf course that's always in exceptional condition, The Buckhorn exceeds every golfer's expectations and has a natural 100-foot elevation change.
Our

PREMIUM COURSES

are rated the finest anywhere in Texas! Most have hosted a major PGA Event. We maintain a constant relationship with these clubs so we can secure preferred/advance tee times for our client-players looking for the absolute best of the Alamo City. We have excellent rates at these clubs, too!
The Resort Course

was the site of the PGA Tour's Texas Open since 1995. Located on the north side of town, this thrill-a-minute design by Tom Weiskopf and Jay Morrish has made quite a bit of noise since its debut. It was a Golf Magazine "Top 10 You Can Play" pick.

The 7,001-yard layout is spread over three hilltops, serving up views of the surrounding terrain. Some holes seem like a game of "can-you-top-this," with dramatic elevation changes, carries over ravines, and risk-reward opportunities. But La Cantera pulls this off without being gimmicky because it's the roller-coaster property, not the design, that causes the drama.

The Palmer Course at La Cantera

opened in March 2001 and offers visitors to The Westin La Cantera Resort a second 18-hole course, designed by Arnold Palmer and the Palmer Course Design Co. The course complements the existing Resort Course at La Cantera, and together the public daily fee courses are the first in South Texas to provide 36 holes of championship golf designed by golfing legends.

Located on 225 acres, The Palmer Course at La Cantera provides golf enthusiasts a par-71 course measuring approximately 7,000 yards. The course includes several signature holes, including the par 3 No. 4 hole with dramatic waterfalls along the entire front of the green and a tribute to Palmer's late wife: The Winnie Palmer Memorial Bridge.
The Hill Country Golf Club

, nestled in San Antonio's Hill Country, meets all the standards of a truly great golf club. The 6,913-yard course is a beautiful, but challenging 18-hole course designed by the nationally acclaimed golf course architectural firm, Arthur Hills and Associates. A number of Arthur Hills and Associates courses are nationally recognized, including Eagle Trace, the TPC course at Coral Springs, Florida.

Ranked the #1 Texas golf destination and #17 worldwide by Condé Nast Traveler, experience unforgettable San Antonio, Texas golf at the Hill Country Golf Club.

Perhaps no other city can boast of a site less than ten minutes from downtown that would match that of

The Quarry Golf Club

, a Keith Foster design opened in 1993 that is one of the most unusual layouts anywhere. At 6,740 yards from the back tees, its moderate length may lull you into a false sense of security. Make no mistake about it, this is a very difficult golf course that changes personality in a hurry.

The watery, treeless front nine lies between an adjacent expressway, railroad tracks and an office complex -- not exactly a serene golf experience. Tall heather abounds, adding an esthetic touch with a propensity to swallow golf balls. An entirely different experience awaits as you descend into the quarry for the back nine. It's one beastly hole after another, with carries over waste bunkers, narrow fairways, and 400 extra yards.
This 7,077-yard layout was designed by Thomas Walker. Don't worry if you've never heard of him; if this place reaches its potential, you'll surely be seeing more of his name in the future.

Canyon Springs

is set in a scenic oak forest covering a series of hills. The isolated routing makes you feel as if you're on top of a private mountain, as no two fairways run parallel. Some might expect a tricked-up course with wild elevation swings and long forced carries. Instead, the design blends in with its environment instead of taking advantage of it.
Due to the differing topography, the Dye and Norman Courses will complement one another with each having a unique look, feel and playing experience for members, resort guests and customers of Southern Breeze Golf Tours. While very different from the traditional, tree-lined

AT&T Oaks Course

, the

AT&T Canyons Course

stands on its own as a tournament venue in terms of design, strategy and beauty. This course sits on a great piece of land which provides panoramic views of an adjacent 750 acre nature preserve. The design, which measures more than 7,500 yards, is true to nature and the flow of the land. The dramatic elevation changes and hill country views make this course not only challenging, but breathtaking as well.

LODGING COMBOS
Our optional overnight accommodations are chosen based upon their proximity to the courses, as well as, their overall value, function and convenience to a wide selection of dining venues. These properties APPRECIATE THE GOLFER. Rates range from reasonable to luxury and depending upon your needs. And, you may bring along non-playing guest(s) free of charge, in most cases, up to the maximum allowed room occupancy. These accommodations are optional. However, they make excellent turn-key solutions when you are seeking a complete playing experience in the San Antonio area.
LA QUINTA INN & SUITES
NW San Antonio/I-10

Property type: MODERATE FIRST CLASS
168 ROOMS - 8 LEVELS
GUESTROOMS
include
either 1 or 2 doubles
ELEVATORS - INTERIOR CORRIDORS

Close to La Cantera and within 20 minutes of the nicer clubs | Restaurant Row Nearby | Expanded Continental Breakfast | Modern rooms and facilities | Less than 20 Minutes to the River Walk
BREAKFAST SERVED DAILY!
A Popular Choice for Our Visiting Players!

This San Antonio hotel and state-of-the-art conference center is located in San Antonio's Northwest side of the city. It is also well located for most of the courses on our program.



The La Quinta Inn and Suites Conference Center at Medical Center

is a brilliant eight story contemporary hotel offering 168 deluxe accommodations including one and two room suites. Conveniently located off IH-10 in Northwest San Antonio Tx, the La Quinta is just minutes from the Medical Center, Riverwalk, Sea World, North Star Mall and the Shops at La Cantera. Each room features marble countertop bathrooms, complimentary wireless internet access, refrigerator, microwave, electronic safe and on demand movies. Well-trained and helpful staff maintains a focus on every guest's needs and are dedicated to providing the golfer with the best mid-priced, high-value San Antonio hotel experience.


For a pleasurable overnight experience while hitting the links in Old San Antone we guarantee a relaxing stay at La Quinta!



Breakfast included


Continental breakfast included

Additional Breakfast Items:
Delicious breakfast including bacon or sausage, eggs and other hot items, coffee, juices, pastries, yogurt, cereals, fresh fruit, and "Create Your Own Waffles."

SERVICES INCLUDE:

•

Complimentary USA Today Newspaper




•

Televisions with premium channels, movies on-demand




•

Free local calls and dataport phones with voice messaging




•

Free Wireless Internet in Rooms and Suites, Lobby, Business Center, and Pool




•

Pool-view fitness center equipped for those who take their workouts seriously




•

Courtyard swimming pool and hot tub




•

Guest Laundry facility




•

24-hour self service Business Center




•

Complimentary self parking with 24-hour security




•

Dry Cleaning service




Complimentary Hotel Shuttle
San Antonio Airport

Property type: FIRST CLASS all-suites
120 ROOMS - 3 LEVELS
1 OR 2-Bedroom Suite
ELEVATORS - INTERIOR CORRIDORS

Good location for Falconhead, Wolfdancer and Barton Creek | Close to Airport | Fully equipped kitchen and dining Sofasleeper | Dining and Shopping closeby | Warm Buffet Breakfast | 32 in flat screen TV | Complimentary WiFi | Outdoor pool | Exercise room


WARM BREAKFAST SERVED DAILY!
Make yourself at home in San Antonio minutes after your plane lands, at the

Residence Inn San Antonio Airport

. This San Antonio hotel is conveniently located several miles from three of our top golf courses. A twenty minute drive takes you from your San Antonio, TX hotel to historic, vibrant downtown San Antonio. Take a water taxi at the San Antonio Riverwalk. See a show at the 1929 Majestic Theatre. Try some genuine Texas BBQ. And of course, remember the Alamo!


Back at your San Antonio, Texas hotel, they will be waiting with a free breakfast buffet in the morning and free appetizers at their nightly social hour. Outside is a BBQ picnic area and a heated pool. Curl up in front of a fireplace or make yourself a meal in the fully equipped kitchen in your suite.

Enjoy a well-lit large desk, ergonomically designed chair and free high speed internet. And pets are always welcome!


| | |
| --- | --- |
| One Bedroom Suite | Two-Bedroom Suite |
| Separate bedroom with queen bed or two doubles, full bath, fully equipped kitchen, living room with sofa-sleeper, TV and phone | Two separate bedrooms with queen bed in each room, 2 full baths, fully equipped kitchen, living room with sofa-sleeper, fireplace, TV and phone |
Spacious suite combines comfort and functionality, including high-speed Internet access

The kitchen in every San Antonio hotel suite comes with microwave, refrigerator, stove-top and oven
Hilton HOMEWOOD SUITES
on the RIVER WALK
Property type: FIRST CLASS all-suites
146 suites - 12 LEVELS
Guestrooms include either 1 king or 2 queens
ELEVATORS - INTERIOR CORRIDORS

Located downtown near 6th Street | Dining , Shopping and Entertainment closeby | Club Lounge / Exercise room | Indoor and Outdoor pool | 32 in flat screen TV
WARM BREAKFAST SERVED DAILY!

WARM BREAKFAST SERVED DAILY!
Homewood Suites by Hilton

offers spacious studio, one, and two bedroom suites with enough space for work, study, or entertaining, complimentary high speed internet access in all guest suites.

A complimentary "suite start" hot breakfast every morning and a welcome home reception featuring a complimentary light meal and
beverages Monday through Thursday evenings. All for less than you might think.

At this lovely Homewood Suites Hotel you will enjoy one of 26 different suites plans that have been developed inside the San Antonio Drug Company Building-listed in the National Directory of Historic Places. Valet parking required at $26 daily.

Services include:

•

Automated Teller (ATM)




•

Beverage Area, Complimentary


•

Breakfast Area, Complimentary


•

Coin Laundry


•

Concierge Desk


•

Elevators

•

Gift Shop


•

Laundry/Valet Service


•

Local Area Transportation

•

Luggage Hold


•

Multi-Lingual Staff


•

News Stand


•

On-Site Convenience Store
on the RIVER WALK
On the River Walk | Intimate Location Away from the Noise | Award-winning Boutique-style Hotel
Property type: DELUXE CLASS Boutique-Style
27 ROOMS - 3 LEVELS


SAN ANTONIO

RIVERWALK
San Antonio's Finest Boutique Establishment

In 1914, local grocer Edward Franz Melcher opened

Hotel Havana

with a vision to recreate the tropical allure of the hotel's Caribbean namesake. He built in the Mediterranean Revival style popular in Cuba at the time, and many of the surrounding cypress, palm and magnolia trees he planted still remain. The hotel served as a temporary residence for Melcher's visiting vendors, beginning a storied legacy that includes FBI stings, acts of God and other colorful events befitting a grand and legendary hotel. In April 2010, Hotel Havana was reopened under the humble care of Liz Lambert and her team at Bunkhouse. The hotel is listed in the National Register of Historic Places, but manages to maintain its youthful spirit nonetheless.

The property is listed in the National Register of Historic Places and has been voted one of the nation's best hotels by Condé Nast Traveler, Travel + Leisure, Southern Living and Budget Travel Magazine.

Services include:

•

Automated Teller (ATM)




•

Beverage Area, Complimentary


•

Breakfast Area, Complimentary


•

Coin Laundry


•

Concierge Desk


•

Elevators

•

Gift Shop


•

Laundry/Valet Service


•

Local Area Transportation

•

Luggage Hold


•

Multi-Lingual Staff


•

News Stand


•

On-Site Convenience Store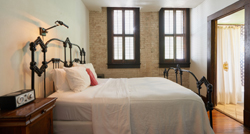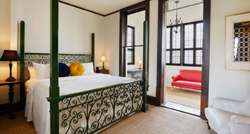 FINE DINING & EVENING ENTERTAINMENT

OCHO


Situated in a glass conservatory overlooking the River Walk, Ocho serves breakfast, lunch, dinner and late-night snacks indoors and on our breezeway. Executive Chef Juan Bernal has created a menu rooted in the hotel's pan-Latin cultural influences from Mexico, Cuba and Texas. The cocktail menu highlights the tequila of the hotel's San Antonio roots with the rum of its Cuban namesake, with a love for old school recipes and, when the occasion calls, the simple satisfaction an ice cold Michelada. Ocho offers complimentary wifi and serves Stumptown espresso drinks to stay or take away.



HAVANA BAR


Havana Bar offers cocktails in dimly candlelit basement setting suitable for intimate meetings and secret rendezvous.
2 Incredible courses at one of San Antonio's top golf resorts!
3 Days/2 Nights Starting at $449 Per Player
Laid-back luxury resort that overlooks a spectacular 27-hole course - one of Arthur Hill's best designs!
3 Days/2 Nights Starting at $399 Per Player
ALL OF OUR RESORT PACKAGES INCLUDE:
---
Advance Tee Times up to 120 Days
Deluxe Accommodations
Use of all Facilities at The Resort
All lodging and golf-related taxes and resort fees
Extra nights and rounds available at low package rates!
READY TO TEE IT UP?

We will check your requested courses and optional accommodations (listed above) for the date range that you may specify and reply back to you as soon as possible. We are also here to answer questions about this golf package. Just click the "REQUEST INFO HERE!" button below and give us your ideas:
With Southern Breeze, you come first. If when you play is an important factor to you and your playing partners, we get there first. You can be assured that our tee times are generally the best of the day because we access the tee sheets well before the general public and usually 30-120 day days in advance.
And although we serve foursomes and larger groups, we can also assist the single player in many cases. Our unique advance planning service insures that you play when you want to. Whether it is teeing it up at one of the many resort destinations that we represent or our individual and highly-ranked golf clubs listed throughout our web site, you can rest assured with a premium golf tee time from Southern Breeze Golf Tours.
Catch a Southern Breeze!

Sincerely,
Randy C. Gardner
President


LOW DISCOUNTED PACKAGE RATES

|

PREFERRED TEE TIMES

|

INDIVIDUALS OR GROUPS
TOLL FREE

1-877-510-4653

or
817/788-5210

Southern Breeze Golf Tours is a division of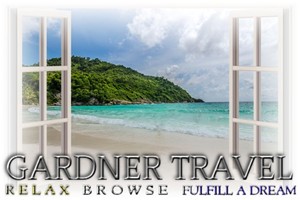 GOLF *

VACATIONS

* TOURS *

LUXURY TRAVEL
Our Hours Are:

Monday - Friday
from 8:30am to 5:30pm
Central Standard Time
1-877-510-4653
or
CONTACT US VIA EMAIL AT:
golf@gardnertravel.com
1979 - 2014
by Gardner Travel Service, Inc.
© 1999 - 2018