SOUTHERNBREEZE
---
GOLF TOURS
PLAY AROUND
SAN ANTONIO

'Catch a SouthernBreeze!'
© 1999 - 2013


is a division of
Gardner Travel Service, Inc.
---
3 STARS
FOR TEXAS

Golf Tour
S I G N A T U R E
S E R I E S
A Tour of
Texas' Best Links
A 6 Night Package Combining
the Best Golf Resorts in Texas
CLICK HERE
---
Three Jewels of
THE SANGRE DE CRISTO
MOUNTAINS
Black Mesa/Taos Country Club/Angelfire Country Club
COOL SUMMERTIME ESCAPE!
to some of New Mexico's
finest links.
CLICK HERE

THE
---
C O L O R A D O
COLLECTION
---
RedSky!
CLICK HERE
Breckenridge
Keystone Summer!
CLICK HERE
Keystone
Cool Mountain Breeze!
P

G

A
---
Spectator

Series
---

Attend these greatest of
Golf Events


with Tickets





CANYON SPRINGS
Golf Club
San Antonio, Texas
Built at the site of the last stage line stop that served San Antonio

---

One of San Antonio's most scenic and favored courses!
---

CANYON SPRINGS STAY 'N PLAY

---


The 7,077-yard layout was designed by Thomas Walker. Don't worry if you've never heard of him; if this place reaches its potential, you'll surely be seeing more of his name in the future.

Canyon Springs Golf Club resides admidst the original Classen Homestead. The rights to this 54,000 square acre homestead was claimed by the Classen family following the Homestead Act in the 1850's.

Canyon Springs is set in a scenic oak forest covering a series of hills. The isolated routing makes you feel as if you're on top of a private mountain, as no two fairways run parallel. Some might expect a tricked-up course with wild elevation swings and long forced carries. Instead, the design blends in with its environment instead of taking advantage of it.

There were some heated discussions during construction on whether or not to leave some strategically placed trees, and in the end, the correct decisions were made. The result is a thinking person's layout where placement off the tee is critical and the huge greens can make for wildly different pin positions. In its short time of existance Canyon Springs Golf Club has become one of the area's finest courses.


Along with many structures original to the ranch property, a watering troft still stands in the dry creek bed to the east of the Pro Shop. The concrete troft, used to water horses along the stagecoach route out of San Antonio, reads February 24, 1900 on its side.

3 Day/2 Night
STAYS
include:
2 Rounds of golf with cart per player at CANYON SPRINGS GOLF CLUB
Advance Tee Times*
2 Nights Accommodations at the La Quinta Inn Northwest
Daily Continental Breakfast
All lodging and golf related taxes
| | | | |
| --- | --- | --- | --- |
| | Single | Double | Triple |
| Friday - Sunday | $452 | $325 | $283 |
| Monday - Thursday | $412 | $285 | $243 |
| Additional night incl. golf | $226/$206 | $162.50/$142.50 | $141.50/$121.50 |

Rates above are per person. Single player may bring along 1-2 guests for free. Weekday stay is Monday through Thursday. Weekend stay is Friday through Sunday. *Advance tee times can generally be secured from 30-60 days of play - a Southern Breeze Golf Tours exclusive arrangement. with

Canyon Springs Golf Club. 2 Rounds/1 Night Packages also available upon request.


This course is also offered in our PLAY AROUND SAN ANTONIO GOLF PACKAGE.





---
OUR OVERNIGHT ACCOMMODATIONS
---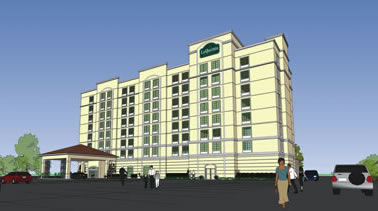 ---
LaQuinta Inn and Suites Northwest

---
Property type: FIRST CLASS
ELEVATORS - INTERIOR CORRIDORS

Room types:

Guestrooms


incl. either 1 king or 2 queens


Opened in March 2007, is a new San Antonio hotel and state-of-the-art conference center in San Antonio's Northwest. It is also well located for most of the courses on our program.

SERVICES INCLUDE:

Complimentary USA Today Newspaper
Televisions with premium channels, movies on-demand
Free local calls and dataport phones with voice messaging
Free Wireless Internet in Rooms and Suites, Lobby, Business Center, and Pool
Pool-view fitness center equipped for those who take their workouts seriously
Courtyard swimming pool and hot tub
Guest Laundry facility
24-hour self service Business Center
Complimentary self parking with 24-hour security
Dry Cleaning service
Complimentary Hotel Shuttle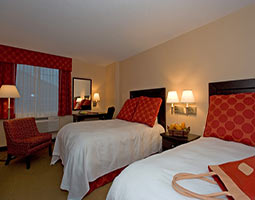 For a pleasurable stay while hitting the links in Old San Antone, we guarantee a relaxing stay at La Quinta. Each day, the friendly staff prepares a delicious complimentary breakfast in the breakfast room, where choices including coffee, juices, pastries, yogurt, cereals, fresh fruit, and including "Create Your Own Waffle."
Continental Breakfast included
<>
A word about our programs...

The 'Play Around' Packages located throughout our site offer optimal golf experience without excessive spending as a result of choosing to stay in a suitable and strategically located hotel rather than opting to stay in a nearby resort that will surely cost a bit more. If golf is your primary concern when visiting this destination perhaps the 'Play Around' concept that we offer would work well for you. If however, you choose to stay in one of the top resorts that we represent within this site, we will arrange those reservations for you and add any of the courses listed below to your trip.

SEE OUR SIMILAR PROGRAMS FOR AUSTIN!




We will check your requested courses and accommodations (above) for the date range that you may specify in the boxes below and reply back to you as soon as possible. Just click the "Request Rates" button at the bottom of the request form. Of course the more information that you can provide us, the closer we will be in matching your exact request(s). We will not knowingly sell or pass along your information that you provide to any third party for any reason (see Liabilities and Privacy Policy).

We are available to answer your inquiries in person Monday - Friday (except holidays) from 8:30am until 5:30pm CST (1-817-788-5210). Our typical response time for your email request ranges from 3 hours to as many as 72 depending upon the availability of onsite resources and those of the golf clubs, country clubs and resorts/lodging establishments, as well as, any variations you may request from our listed programs. For those inquirers requesting a trip within two weeks of play, we will give you a priority due to your need to establish a plan. At any rate, we will respond to your requests as quickly as possible and as soon as we have all components of your package confirmable. Also, keep in mind that some of our golf packages are time sensitive requiring an advance purchase to receive the lowest available rates.
OR...
JUST CALL US MONDAY-FRIDAY FROM 8:30AM UNTIL 5:30PM (CST) AND WE WILL TAKE YOU FROM TEE TO GREEN ON THE COURSE QUALITY, ROOM/SUITE DESCRIPTIONS AND THE RATES AND AVAILABILITY.

1-877-510-4653

for a total San Antonio playing experience.

<<< MORE STAY 'N PLAY PACKAGES >>>


Get to know and enjoy one club for an enhanced over-all playing experience

* Save time and money from driving around *

Secure your tee times from 30-60 days from play with our exclusive Southern Breeze advance tee-time arrangements.




GOLF TRAVEL INSURANCE
Don't get caught out in the rain!

INSURE YOUR GOOD TIMES!
with TravelGuard Insurance



This unique insurance policy covers your trip for illness, injury or death. It also provides for

baggage loss (including golf clubs), delays and emergency medical and evacuation. Round rainouts are also covered in this fully comprehensive program.

Protect your golf trip with TravelGuard Insurance.

For full details and easy online purchase please click on the banner (right):
We can also package and assist in the following golf-themed outings:
CORPORATE EVENTS
CHURCH GROUPS
FRATERNITY/SORORITY/ALUMNI GETAWAYS
REUNIONS
RETREATS

BACHELOR PARTY GOLF OUTINGS
GIFT CERTIFICATES

TOURNAMENT PRIZES
OUR HOURS ARE
---
Monday - Friday from 8:30am to 5:30pm
Central Standard Time
TOLL FREE
877-510-4653
or 1-817-788-5210 for some parts of Canada
We also offer the following San Antoio and Hill Country area packages:
The WESTIN LA CANTERA RESORT GOLF PACKAGE - a complete program including selected number of rounds at the two La Cantera courses, as well as, a great selection of other area golf courses. GREAT RATES!

The HYATT HILL COUNTRY RESORT - a real Texas gem with a most enjoyable 27-hole Arthur Hills designed golf club. This antebellum-style resort is a family pleaser!

PLAY AROUND SAN ANTONIO - a collection of the finest links available in the San Antonio area. 30 Day plus Advance (preferred) Tee Times at great low rates!

The TEXAS 2 STEP - a combination of the best of Austin and San Antonio in a moving 4 day/3 night package!

SAN ANTONE'S BEST 90 HOLES - if you are seeking the best course play in San Antonio you may as well start here!

BARTON CREEK RESORT - most would agree that this is the premier Texas golf resort!

PLAY AROUND AUSTIN - a collection of the finest links available in the Austin area. 30 Day plus Advance (preferred) Tee Times at great low rates!